SDL Tridion Sites 9, part of SDL Tridion DX, introduces several changes and new features for managing digital experiences. Of course, we were eager to install the new version and play with it.
Here are some of the things we noticed when installing SDL Tridion Sites 9 that perhaps you didn't know.
SDL Tridion Sites 9 or SDL Web 9?
The initial feeling is that although the product has been rebranded SDL Tridion Sites 9 by SDL, we still see mostly SDL Web 9 references everywhere. I guess the next release after the GA version may fix this, but for now we kind of have a hybrid naming convention. A few examples:
All of the Content Manager services are still called SDL Web * (for example "SDL Web Content Distributor Transport service"), but all microservices are now by default called Tridion * (for example "Tridion Deployer Service")
The installer has been renamed SDLTridionSites9.exe, but all of the installer screens still show SDL Web 9
The "About" screen still mentions About SDL Web, we still have the green SDL Web splash logo and the default administrator user is still called "SDL Web Content Manager Administrator"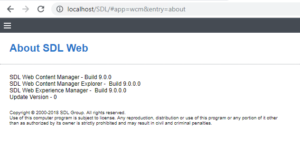 TOM is gone!
After installing Tridion 9 with the parameter LEGACY_VISIBLE=TRUE, there is now no possibility anymore to select Legacy Features like Business Connector and VBScript. This means that – after many years of living in the purgatory of deprecation – the COM+ API is gone. TOM has left the building.
As a result, VBScript, JScript and XSLT templates don't work anymore. If you still have them lying around, you need to refactor them into Dreamweaver templates, or – better still – move to a dynamic implementation. Your old COM+ event system won't work anymore either.
The only legacy features you can select in Sites 9 are the (still deprecated) Outbound Email options.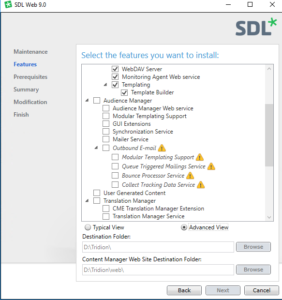 No C:\SDLWeb\log folder anymore
The previous version of the Tridion installer always created a folder C:\SDLWeb\log by default for the Transport Service logs, which we always changed to another folder. The installer of Tridion 9 now does not do this anymore. The default location of the transport service logs is now set to ./logs in the logback.xml file (which is still not the preferred location as it will now create a log folders in the /bin folder of the Tridion installation folder).
Although it is an improvement because we don't need to clean up this folder anymore, we hope that the next version of the installer will set the log location within the log folder of the Tridion installation location.
Image editing
There is now some basic image editing functionality, that allows you to crop and resize images. When using this feature, a new version of the Multimedia Component is created, so if you need multiple renditions of the same image, you will end up copying a lot of content. Still it is nice to see this enhancement, which will probably satisfy our customers' casual image editing needs.
DXA does not work with Tridion Sites 9
SDL has announced a new version of SDL's Digital Experience Accelerator (DXA) which will work with SDL Tridion Sites 9 as well as  SDL Tridion Docs 13 SP2.
We urge you to wait for this, because the current version of  DXA (2.0) clearly does not work with Sites 9. Also, DXA 2.0 refuses to work with the Tridion Sites 9 Context Service. But even when you downgrade the Context Service to 8.5, you will still see errors in the log.
Regions
If you are involved in Tridion implementations, regions are quite possibly the biggest change you have encountered in the last 10 years. Regions will change the way we're modeling the content in a Tridion implementation, making the system easier to use for content editors, while reducing the room for errors. Credit where credit's due: we think SDL did a great job on this one!